Folding mask machine is a process of hot pressing, folding forming, ultrasonic welding, waste removal, ear belt and nose strip welding of multilayer non-woven fabrics to produce various masks with certain filtering functions. The mask equipment is not a single machine. The cooperation of multiple machines is required to end various different processes. The more popular mask equipment in shopping malls include: Cup Mask Machine, non-woven flat mask machine, N95 mask machine, 3M9001/9002 folding mask machine, duckbill mask machine, three-dimensional dust mask machine, etc.
Folding mask machine, also known as Type C mask machine, is a fully automatic machine for producing folding masks. It uses ultrasonic technology to bond 3~5 layers of PP non-woven fabric, activated carbon and filter materials, and cut out the body of the folded mask. Process 3M 9001, 9002 and other masks. According to the different raw materials used, the masks produced can reach different standards such as FFP1, FFP2, N95, etc. The ear straps are elastic non-woven fabrics, so that the wearer`s ears are comfortable, no pressure, and the mask filter cloth layer has a good filtering effect. , Which perfectly matches the facial shape of Asians, and can be used in high-pollution work such as construction and mining.
Functions and characteristics of the folding mask machine:
1. It can process folding masks such as 3M 9001, 9002, etc., and the processing can be finished at one time.
2. PLC automatic control and automatic counting.
3. Easy to adjust equipment, easy to change materials.
4. The mold can be replaced by extraction method, which can quickly change the mold, and produce different types of folding mask machines.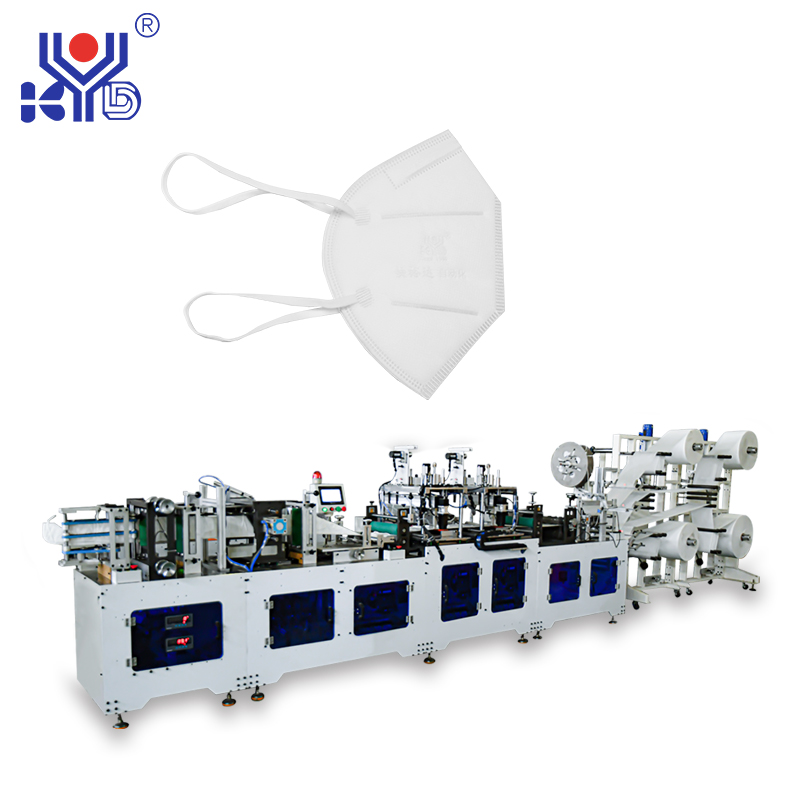 KYD Automatic Mask Machine Factory
Business Type:Manufacturer
Product Range:Nonwoven Machines , Nonwoven Machines
Products/Service:Face Mask Machine , N95 Cup Mask Machine , Bouffant Cap Machine , Shoe Cover Machine , Medical Gowns Machine , Solid Mask Machine
Certificate:GS , CE , ISO9001 , TUV
Company Address:No.6 Keyuan 8th Road,Keyuan Industrial Park,Tianxin Village,Tangxia Town,Dongguan City,Guangdong Province,China , Dongguan, Guangdong, China


Previous: What are the Main Systems of the Automatic Flat Mask Machine?
Next: The 17th Shainghai International Nonwoven Conference & Exhibition (SINCE)